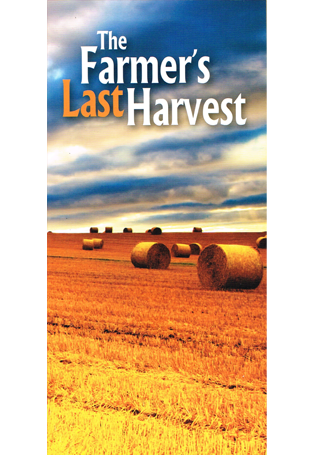 The Satisfied Farmer
'The ground of a certain rich man brought forth plentifully'.1 This farmer had obviously worked very hard, and was now satisfied that it had all been worthwhile. The early mornings, long days and exposure to inclement weather had all taken their toll. But now, as he surveyed the results of what had been accomplished, he felt satisfied.

The Farmer's Plans for the Future
'He thought within himself, saying, What shall I do, because I have no room where to bestow my fruits. And he said, This will I do: I will pull down my barns, and build greater; and there will I bestow all my fruits and my goods. And I will say to my soul, Soul, thou hast much goods laid up for many years; take thine ease, eat, drink, and be merry'.

The Farmer's Foolishness
He was making preparations for a long, comfortable life, but had made no preparations at all concerning his death. Obviously, he expected to live for many years. So even if he realised his need to get right with God, he probably felt there was no urgency. He would put it off until a later date. There was still plenty of time. Or so he thought!

Who said this Farmer was Foolish? GOD DID!
What a shock it must have been when God said to him, 'Thou fool, this night thy soul shall be required of thee'.3 Time had run out, and now it was too late. He would never see another harvest or the new barns he had planned to build. He would never again hold a farm implement in his hands or walk through his fields. What lay ahead of him now was death, the grave, judgement and a future for which he had made no preparations.

Did you Know?
What God said to this farmer has implications for us all! We read in the Bible - 'What man is he that liveth, and shall not see death? Shall he deliver his soul from the hand of the grave?4 It is appointed unto men once to die, but after this the judgement.5 There is no man that hath power over the spirit to retain the spirit; neither hath he power in the day of death'.